Brooklyn or Bust...
So this weekend the husband and I were supposed to be visiting St. Louis. Well the lovely folks at Macarthur Airport in scenic Islip NY had other plans. Apparently there is some piece of equipment that helps planes to land in cloudy/rainy weather called an EGS. Well the airport decided to try to fix this piece of equipment and then couldn't get it working again and cancelled ALL the flights in or out of the airport for the entire day. Well the airport in question is about a 3 hour subway/Long Island Rail Road trip away from our apartment we basically just got our money back and cancelled the trip and made the long trip home. Which was probably for the best especially since there was a crazy ice storm in STL the day before.
BOOOOO
And the whole day was topped off by a ridiculous Cab ride with a crazy Chinese women who pretended she didn't know how to get to Brooklyn but then complained that we didn't give her the most direct route (she had places to be and emphasized this by holding up a plastic
WALL
clock in a gallon size zip lock bag. So why did she need directions if she already knew the best way to take us?!? Then she tried to play the "I have no change" game so we would have to give her an insane tip for a normal can ride let alone a ridiculous one; thankfully we found some dollar bills.
But all was not lost I worked on this guy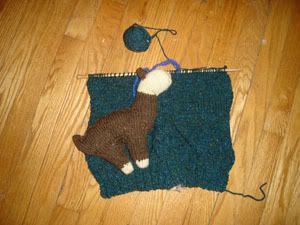 His name is Pedro the Llama, he still needs some finishing stuff done but for the most part he only took me about a day to knit. I had to do some finagling attaching the legs together and continuing on with the body. He is also a "ridge back" Llama since It was very late when I went to graft together his back before I started the neck and tail. Lets just say I didn't quite have the patience for it and he got whip stitched. I will just have to practice my grafting (or lack there-of) on another project.
The sweater is also quite a bit longer, I just finished the waist shaping and am about to start on the shaping for the bust. I think I might start a count of how many toys I finish knitting while the poor sweater stays on the needles.
Toy Count=2
Like I mentioned before, I'm an impatient girl who like results=>
-McK