Only the strong survive
Here is a little bit of what I have been up to the last few weeks.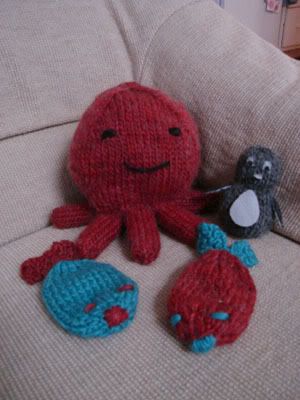 And here is a shot of just "Octobot"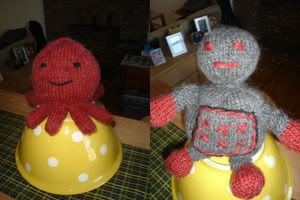 Not as much I would like, but not to bad. I'm in the process of reorganizing my job situation., which is taking up more time than I expected. I thought freelancing was supposed to be all lunch meetings and relaxing afternoons of sewing and knitting, um yeah not so much. As much as I love the fact that I work for myself now, I was definitely unprepared for how much time it takes just to keep yourself organized and on top of things, not to mention all the actual work. But things are starting to fall into place slowly but surely, and my needles are finally starting to get some use again I think they were getting a little lonely not being dragged all over NYC everyday. I am starting to get a little burned out on the toys and I might switch back over to my "sweater". I put sweater in quotations marks because of course I have decided I am going to frog it and start over. I want to make something more structured and blazer-like, I'll post some sketches when I get a chance to scan them. Poor sweater, it never knew it didn't stand a chance.
McK-