One of Three
For the last two months I have been spectacularly busy. Here is some of the stuff that's been keeping me busy
Big project #1
Red Metal Mailbox
presented Old tricks for a second time. The show did so well last spring we decided to remount it again this summer. Every time I see it I am so proud of it, I can't believe what an amazing show we put together. If you are in the NYC on either of the next two Thursdays you should check it out at the
Chocolate Factory Theater
in Long island city.
Project #2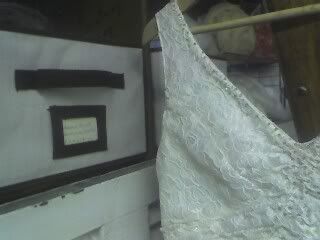 Wedding dress 1 of 3 is done and in the hands of the lovely bride. The wedding is next weekend and I will have some much better pictures afterward, but while I highly doubt her fiancé would ever stumble across my blog I'm not going to chance any bad wedding mojo by posting pictures of the dress before the big day. But I cannot even begin to say how relieved I am to be done with it, Hand beading can really cut into a girls knitting time.
And with spectacular timing my friend Pam decided to host a "spinning weekend" at her insanely gorgeous house in Montauk. Here is the view from the back porch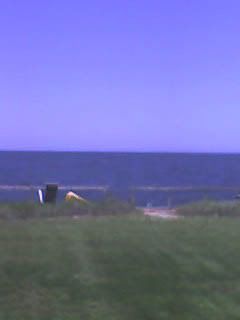 Pam, Heather, Lulu and I got to escape the city and spend two beautiful wonderful days doing nothing but spinning, knitting, and walking around town, and freaking out the locals by knitting at the local bar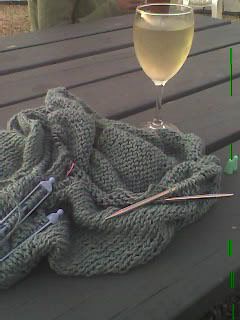 We also did some clamming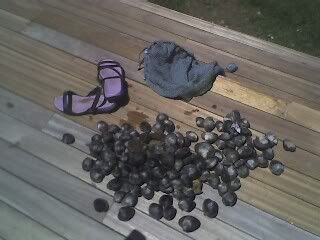 Not growing up in a family that fished or hunted, it was pretty awesome to forage the clams from the harbor and then cook them that night for dinner. In between drinking and clamming I also learned the magic loop method and how to turn a heel short row style and got a decent amount of spinning done, a pretty amazing two days. And now that I am back its on to Two of Three and Three of Three and a few more weeks of a crazy schedule.
But I'll always have Montauk.