Way past retro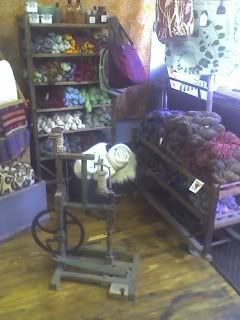 That my friends is the amazing antique spinning wheel my lovely friend
Melissa
found, and that her equally lovely husband just dropped off to
Brooklyn General
for me. She told me it was broken, and very very old. It actually only needs a new drive band, some serious CLR treatment on all the metal parts, and if I feel like it a new footman for one of the treadles. Though it works just fine as a single treadle. It even has a built in lazy kate in the top. It looks and feels like the kind of wheel people made really functional yarn/twine/rope on, back when it wasn't just a hobby for the fiber obsessed like myself.
I am hoping after A LOT of tlc that I might be able to convert it into a wheel to spin all the crazy beautiful stuff from the
Pluck Fluff
book that is not going to go as smoothly on
Lucille
Here keeping my fingers crossed.