Summer: a photo essay, sorta
The summer is over and it feels like it was about 2.5 seconds long. That might have to do with the fact that we managed to travel across a good portion of the eastern half of the country in a little under 2 months.
There were family celebrations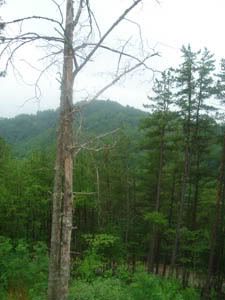 We traveled to the amazing beautiful Smokey Mountains in TN for Gene's Grandparent's 50th wedding anniversary. Being in the hillbilly version of Vegas, Gatlinburg TN it was of course a hillbilly themed celebration.
And I also procured an amazing airbrushed t-shirt from one of the ten million air brushed t-shirt places
There were weddings
That would be wedding dress two of three. It was my present to my wonderful friend Carrie who got married in August. She lives in the Midwest. I am in Brooklyn. Thankfully I didn't completely screw things up and the dress turned out lovely.
There was the Chicago Comic Con
We met up in Chicago for a weekend of all things dorky with some of our friends from St Louis. Wendy and I only went for the first day, while we can definitely get our geek-on, we aren't quite at the same level as most of the attendee's
But there were t-shirt boths galore, some video game Karaoke, and the always popular baby bottles of wine in the cafeteria
and my personal favorite, a freaking kntting convention going on next door
That was me before Wendy used her awesome powers of persuasion to get the door people to let us into the market place where I got this
From a women with some amazing fibers, that sadly doesn't have a website.
All in all it was a very nice, if sort of hectic summer. And now I can pretend that we don't ever have to travel again...yes I'm delusional, I like it that way.