Like a record baby...
I just started a spinning class and after my second one, I think I am hooked. Here is the very bulky fruits of my labor.
These are my first attempts, the one on the left is from learning to card the wool.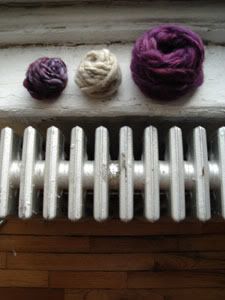 This is my first real skein of yarn. Its merino silver in raspberry and lilac with some silver alpaca blended in.
I am pretty pleased, and planning a trip this afternoon to buy my own carders and more fiber. I have a bad feeling there is going to be lots of spinning and not so much knitting in the next few weeks.