Felting Adventures with Mozart
Thing I have learned so far in 2007....
1. That felting is a glorious and addictive thing.
2. That felting small objects by hand in your kitchen sink is easy and fun.
3. That felting larger objects by hand in your kitchen sink my cause serious nerve damage in hands and back.
Here are some of the small things I worked on over the weekend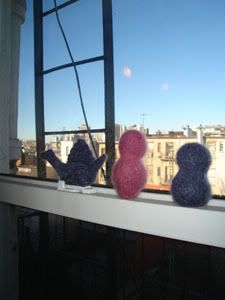 A felted crane for the Knitnowar 10o0 cranes project, and two little peanuts that I
think
are going to be little felted owl stuffed animals. All of the them were pretty quick to knit and the felting process didn't take long at all once I figured out that nothing was really going to work except using my own two hands and a lot of alternating between hot and cold water. I am conveniently going to not mention all the time I wasted trying to turn my kitchenaid mixer into a felting machine. After my little projects worked out I moved on to something a little larger,
Meet Mozart
here is before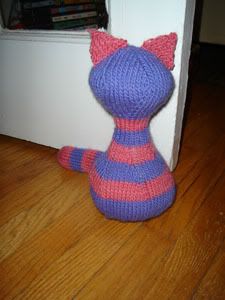 And After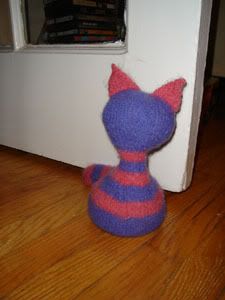 He will have a face tomorrow after he dries a little bit more. I don't know if I will stick with calling him Mozart but I got it from a guy I work with who called me the Mozart of knitting today when he realized I was knitting with a pattern I made myself. I didn't have the heart to let him know that I would be more the "guy on the subway platform way out in queens" of knitting rather than Mozart. That title I believe is held by Elizabeth Zimmerman.
If anyone is interested in the Knitnowar project there is more info over at
Yarnboy
Here is a better pic of my finished Crane
I knit the gauge a little tight on this one, and I didn't felt him very long. I was too excited to see how it was going to turn out. But it sounds like a wonderful project and I am definitely going to RSVP for 10 cranes!
And now that I have shared I am going to hobble over to my couch and stay there for a very long time until I get feeling in my lower back again. Just reason number 100 to hate not have a washing machine in my apartment.
-McK