Toddler Couture
My prediction was correct I am quite obsessed with spinning at the moment. Here is my newest, less bulky yarn.
It's a bamboo and tussah silk blend, and quite possible the softest yarn I have ever felt. I haven't set the twist yet, so we'll see if washing it affects the feel of it. Eventually I am going to dye it but for now I just like to admire it and show it to friends and family who feign enthusiasm.
I did take a break from the spinning to try my hand at Toddler clothing design.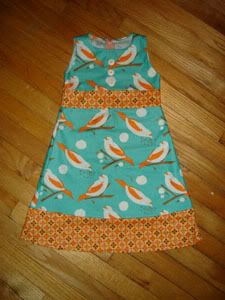 It's a birthday present for the coolest two year old I know. And I am hoping I didn't make her a dress that she'll have to wait another two years to wear. I guess I'll find out on Sunday. I am also in a mad dash to finish an octobot for the same little lady by Sunday. I have most of the robot done, but have only cast on for one tentacle of the octopus...looks like its going to a long Saturday with me on the couch with Veronica Mars. On second thought that doesn't sound so bad.