Me too Alex, me too.
The traveling that seems to never end continued over the weekend. I've decided that a huge reason I am getting sick of the traveling is the motion sickness that seems to plague me on every type of transportation that isn't my feet or a subway train. Apparently I am not the only one
I found this in my seat pocket on our flight from Salt Lake City to Bend. I completely agree, the Atlanta airport does suck. Big time.
The whole reason Gene and I were on said flight was to visit my brother and his girlfriend in Bend, OR. And when I say my brother I kind of mean my sudo niece and nephew. The show pony/Golden Retriever is Mackinaw and the Cat/Bluetick Coonhound is Violet. They're not really into the whole sitting still for photos so we have what I like to call "action photography."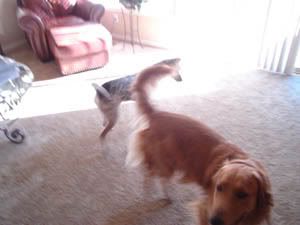 There was lots of beautiful scenery to be seen and some great knitting stores to visit. The amazing part was getting my brother to voluntarily venture into not one, not two but three separate knitting stores. I think it has something to do with him wanting a sweater out of
this
.
But I managed to pick up a set of
Denise interchangeable needles
at
Gossamer Knitting
. They're pink and scented, I think it gives them a little something extra, or you know supports breast cancer research. I also picked up some great
Corn fiber sock yarn
from the
Stichin Post
because the only thing standing between me and finishing a sock (I'm not even ambitious enough for a pair, I'd just like to get one finished) is the fiber content of the yarn.
I also got a fair amount done on a top down raglan sweater for a newborn that is set to appear on October 24.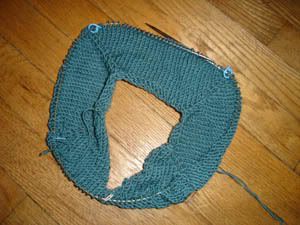 It's Debbie Bliss Baby Cashmerino on US size 7 needles. I'm about 4 rows from separating the body stitches from the arm stitches. So of course I'm losing interest, but hopefully the deadline will keep me focused, maybe.